As retail developer, building owner, tneant, architect or engineer, we know how much a restaurant can add to the value of our venue. But we're also well aware of the environmental issues that can result from annoying smoke and greasy odors emitting from kitchens, as well as the headaches that result from designing them.
Unmatched Design and Technical Support
At United Air Specialists, we've been leading the way as a manufacturer of commercial ventilation systems 1966. So you know ypu can always count on us for the most trusted experience and innovation in restaurant air cleaning technology
We provide complete solutions and play an active role in partnering and supporting your entire project from start to finish, including unit and spesifications drawings for your unique applications. Wether your application is a small installation project, or a non-traditional or historical site, you'll find our design and technical support to be unmatched in the industry.
More Architectural Freedom
Our wide selection of configurations and sizes, ranging from 1,400-37,500m³/h (825-22,000 CFM) is deal for virtually any building design parameter and performance requirement. So regardless of kitchen hood size, our emission control systems through exterior walls, on top of buildings, inside mechanical rooms or above the ceiling.
Proven Technology, Optimum Performance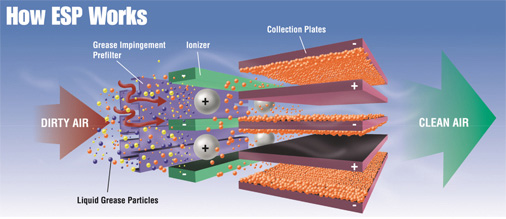 The ESP Advantage - Electrostatic Precipitation technology (ESP) is the key to the superior performance of the PSg. Unlike bag or box filters that remove only the largest particles, ESP Electrically charges even microscopic contamintants, then captures them magnetically in an alumunium collection cell. As result, this sophisticates electronic solution leaves virtaully no grease or hazardous particle untouched, releasing only clean air from the system. UAS' ESP technology ensures constant airflow, unlike barrier filters that can plug and become ineffective.